US-CARS – LEGENDEN MIT GESCHICHTE: DAS BUCH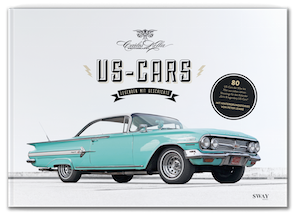 In dem Bildband werden auf 288 Seiten im Hardcover 80 verschiedene US-Car-Raritäten aus den 1930er bis 1980er Jahren im Detail vorgestellt.
Die Aufnahmen sind während sieben Jahren Shootings für den "Girls & legendary US-Cars"-Kalender entstanden. Echte Raritäten wie der 57er Cadillac Eldorado Brougham oder ein 59er Dodge Regent aus Kanada sind ebenso vertreten wie die Pony Cars Ford Mustang oder Plymouth Barracuda. Die Corvette oder Nachbauten von NASCAR-Rennwagen sind dabei genauso wie die Independents mit Hudson und Studebaker. Pick-up-Trucks, Hot Rods und Lowrider runden das Bild ab. Ganz gleich ob herausgeputzt und mit glänzendem Chrom, matt lackiert oder im Originalzustand mit echter Patina – das Buch bildet das gesamte Spektrum der deutschen US-Car-Szene eindrucksvoll ab.
Selbstverständlich – wie sollte es bei Carlos anders sein – gibt es im Buch auch zahlreiche Models aus der Pin-up-, Burlesque- und Tattoo-Szene zu sehen, die den Anblick auf die historischen Gefährte verschönern.
---
Pictoral Book "US-CARS – LEGENDS AND STORIES" by Carlos Kella (English Language Version)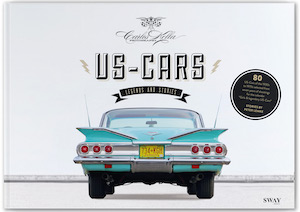 80 US-Cars of the 1930s to 1970s selected from seven years of shootings for the calendar "Girls & legendary US-Cars". Stories by Peter Lemke.
Carlos Kella is a well-known photographer specialising in US-Car culture and pin-up art based in Hamburg.
This pictorial book presents a selection of motives shot for the calendar "Girls & legendary US-Cars" 2009 – 2015 as well as for pictorials in various magazines. The stories about the cars, showing non-published pictures and detailed close-ups, were researched and written by Peter Lemke.
Real rarities such as the 1957 Cadillac Eldorado Brougham or a 1959 Dodge Regent from Canada are shown together with the Pony-Cars Ford Mustang or Plymouth Barracuda.  Included are the Chevrolet Corvette, clones of NASCAR racers and the independents such as Hudson and Studebaker. Pick-up trucks, Hotrods and Lowriders round the book off. No matter whether with shiny chrome, painted in flat colors or in pristine condition with beautiful patina: The book shows the full spectrum of the German US-Car scene.  True to convention, numerous models of the pin-up, burlesque and tattoo scene are part of the book, enhancing the presentation of the cars.
Der Bildband "US-CARS – Legenden mit Geschichte ist im SWAY Books Verlag erschienen
Fotografie: Carlos Kella
Verlag: SWAY Books
Texte: Peter Lemke
Projektleitung: Alexandra Steinert
Design: Malte Schweers
Format: 30 x 22 cm
Umfang: 288 Seiten / 344 Abbildungen
Hardcover mit goldener Heißfolienprägung in Schutzumschlag
Einzeln verschweißt
Fadenheftung
Material: Bilderdruck 150g/m2
Gewicht: 1.800 Gramm
Printed in Germany
ISBN: 9783943740127
US-CARS – Legenden mit Geschichte
49,90 Euro
288 Seiten
Hardcover mit Schutzumschlag
Fadenheftung
Goldene Heißfolienprägung
The Pictoral Book "US-CARS – Legends and Stories" published by SWAY Books

Photography: Carlos Kella
Publishing house: SWAY Books
Language: American English
Text: Peter Lemke
Project Management: Alexandra Steinert
Format: 30 x 22 cm, 288 Pages
344 color photos
Hardcover, thread binding, golden hot foil stamping, bookjacket, shrink wrapped
Material: LumiSilk 150g/m2
Weight: 1.800 gram
Printed in Germany
ISBN: 978-3943740-165
US-CARS – Legends and Stories
49,90 Euro
288 pages
hardcover with bookjacket
thread binding
golden hot foil stamping