Die "Queen Calavera – The Home Of Burlesque" Monatskalender 2013 – 2015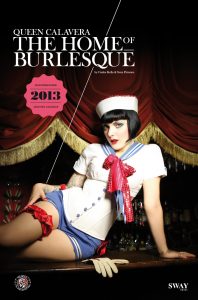 Kaum einer hatte mehr Burlesque-Performer in Einzelshootings vor der Kamera als Carlos Kella. Das "Who is Who" der weltweiten Szene begab sich in Hamburg vertrauensvoll vor seine Linse – ob auf der Bühne, an verrückten Locations, im Studio oder zusammen mit US-Cars.
Zu den Performern vor der Kamera gehörten u.a. (in alphabetischer Reihenfolge):
Artisia Starlight, Beatrix von Bourbon, Belle la Donna, Bettie Blackhearts, Betty Dynamite, Billie Rae, Cherry Typhoon, Clea Cutthroat, Cleo Viper, Coco Deville, Dixie Ramone, Domino Barbeau, Emily la Rose, Frankie Valentine, Frau Pepper, Fräulein Frauke, Giddy Heights, Go-Go Amy, Grace Hall, Guiditta Sin, Heather Holiday, Honey Lulu, Imogen Kelly, Kitten Deville, Kitten'n'Lou, Koko la Deuce, La Viola Vixen, Leia Lockhart, Leolilly, Lolla Lux, Lou on the Rocks, Marlene von Steenvag, Millie Dollar, Minnie Tonka, Miss Anna Trophy, Miss Atlantik Titti, Miss Powder Puffy, Nuit Blanche, Orphelia De Winter, Pepper Pontemkin, Rachel Atlas, Rita Lynch, Roxy Diamond, Scarlett Martini, Stephanie van der Strumpf, Tronicat la Miez, Wanda de Lullabies, Xarah von den Vielenregen, Zoe Scarlett.
Einen exquisiten Einblick in die Welt der Burlesque-Perfomer gewährte uns Carlos in den Jahren 2013 bis 2015 u.a. in Form des Kalenders QUEEN CALAVERA – The Home of Burlesque, wo ein Großteil der o.g. Performer mitgewirkt hat.
Die "Queen Calavera – The Home of Burlesque" Monatskalender 2013 – 2015 sind im SWAY Books Verlag erschienen.